At Squad4, we believe that our local service businesses are fundamental to the health and success of our communities.
Personally, I'm always excited to share these 6 growth tips for local service businesses. I've seen them help numerous local business owners grow their presence online. They'll help you increase brand awareness and lead generation to make a bigger splash—yes—locally. :)
Tips For Growing Your Local Service Business Online
Particularly for small organizations with limited resources, it can be difficult to make a splash beyond your immediate network. When you do great work for clients, you'll benefit from the most effective form of marketing out there—"Word-of-Mouth." However, for many businesses that's still not enough to meet their short-term needs and growth goals.
Regardless of your industry or occupation—these tips can help you increase awareness and get discovered by local consumers.
1. Build a Service or Portfolio Website
The first step you'll want to take is to carve out your own space on the internet. More and more, business is happening online.
Having your own professional services or portfolio website grants you legitimacy and tells potential consumers that you're serious and here to stay. It also provides you a place to showcase your amazing work, customer testimonials, and even your personality—through blogs and other content (news, press releases, case studies, downloads, etc.).
An effective website becomes the nexus for everything related to your business including social media profiles, announcements, content, promotions, reviews, and more.
Spend a little extra time on website design and your digital foundation. You'll find that it will provide you numerous opportunities to grow your business down the line—passively generating traffic and leads.
2. Optimize for Local SEO
With your own website—you now have the ability to optimize for Local SEO (Search Engine Optimization). This provides a higher chance that potential customers in your community will find you while performing online searches and research.
There are a variety of tactics you can use to increase your chances of getting found.
For instance, on your website—you should optimize page titles, headings, meta descriptions, and copy to mention your local city, county, or region.
Another option is to create landing pages tailored specifically to speak to your local market. Increasingly, consumers love to support their local service businesses.
If you're interested in Local SEO services in one of our markets—let us know. We have affordable options whether you're just looking to get started or you're looking to rapidly scale.
3. Register on Google My Business
Since you already have a website and you're serious about growing your local business—make sure you go and register on Google My Business.
This will ensure that Google has and provides your business information to local searchers.
Over 92% of all internet searches happen on Google.
What's more—88% of searches for local businesses on a mobile device either call or visit the business within 24 hours (source).
Location-based service and business searches play a massive role in commerce. There's more good news for local business owners. Consumers who are searching for local businesses are often already primed to make buying decisions.
They're just looking for the right company. It might as well be yours.
While you're at it—go and register your business with Bing Places to make sure you don't miss any of the 6% of searches that still happen there.
4. Get on Business Listing Sites
While we're talking about getting registered—we also need to talk about business listing sites like UpCity, Clutch, and DAN. A huge portion of consumers still use sites and resources like Angi, Yelp, Yellow Pages, DexKnows, and countless more to find local businesses.
Each of these listing sites is another opportunity for your business to be found by local consumers.
For many of these listing sites you can manually create accounts and sign up. If you're looking for something easier to manage—there are also listing services like Moz Local and SEMRush Local SEO tools to help you automatically get registered on wide range of sites. Yes, they're paid services—but they'll help you maintain consistency and save a lot of time.
Before you embark on the journey of getting listed on all of these sites—make sure you have the following ready:
Logo
Website URL
Short business description
Location(s)
Contact information (primary emails, phone numbers, landing pages)
For best results—make sure that all of your listings across different sites are consistent (using the exact same spelling, address, etc.).
If you have questions about Local SEO opportunities and want to take advantage of the increasing number of local searches that lead to purchases—contact us.
5. Start Gathering Reviews & Testimonials From Your Happy Customers
One of the most commonly overlooked but important components to successful Local SEO and lead generation efforts is getting 5 Star reviews. Reviews and testimonials from your happy customers not only helps with your SEO, but it sends a powerful message to potential buyers that other consumers have trusted you and benefited from your service.
Consider the following stats:
Consumers read an average of 10 online reviews before feeling able to trust a local business (source).
Additionally, 82% of consumers read reviews for local businesses, including 93% of people aged 35-54 (source).
Reviews about your business are one of the best ways to build trust with potential buyers AND differentiate your business from the pack.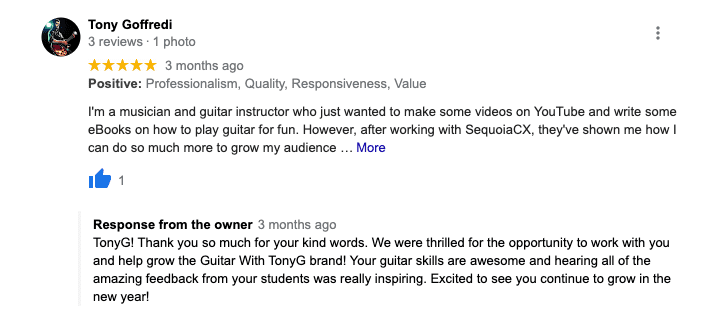 Asking for reviews from your customers doesn't need to be awkward or uncomfortable. Think of it as asking for their "Word-of-Mouth" endorsement. Most of the time customers are excited to participate and help out their local businesses that have provided excellent services.
Since you've already registered on Google My Business—you can make it incredibly easy for customers to leave reviews. Once you have successfully completed a job or sold to a happy customer—send them an email with a review link and a short request for their 5 Star review.
Don't forget to personally thank them in advance and demonstrate your appreciation.
You can promise them it will only take a few minutes and it will significantly help your local business and ability to keep providing your valuable service.
Testimonials can be one of the most powerful ways to gain trust and persuade potential buyers. Just make sure they're not filled with flattery. That's not realistic. Have your customers keep them short, sweet, and honest.
To learn more about how to maximize the impact of your customer reviews—check out our blog Boost Conversions and Generate Leads With Testimonials.
6. Get Active On Social & Local Groups
The last of our tips today is to get active on your social media accounts and in local groups—both networking groups and activities. You have a lot of creative options for engagement here like sporting events, farmers markets, festivals, and more.
Use these opportunities to share your passion for the community, upcoming events, testimonials from your customers.
The important part is to make sure you aren't JUST talking about yourself.
Have you heard of the Rule of 7?
Essentially, a prospect—or potential customer—will need to see or hear your message AT LEAST seven times before they'll be ready to take action or make a purchase. By getting active online and in your community—and being consistent—you'll build rapport and brand awareness with local consumers.
Final Thoughts on Tips to Grow Your Local Service Business
That's it. With these 6 tips and a little bit of time and effort—you'll be able to generate significantly more website traffic and leads.
These efforts will take some time for you to see results. The time required will vary depending on your business, market, offering, and tactics. SEO efforts for instance typically require 3–6 months before you begin seeing meaningful results.
However, since you're committed and serious about growing your local business—the investment now will mean that you'll have significantly more opportunities to reach new customers and generate profit in the medium to long term.
Once you've capitalized on these low-cost fundamentals to grow your local business presence—advertising can help you expand your reach and stimulate early growth. Local advertising can be a great way to grab attention and convert local consumers who are searching for your services and already ready to make a buying decision on local services. But I'll save that topic for another blog.
As a local business owner—these tips have helped me and my clients grow their businesses and find success. I hope you've found these helpful.
If you have any questions or comments—please don't hesitate to contact us.
To all of you local service providers and small business owners—keep on supporting your communities and Inspiring Growth.