Your website homepage is often your organization's first and best opportunity to make an impression, set expectations, convey value, and guide a prospect to action.
Today, consumers are walking around with an 'always-on' supercomputer that gives them instant access to a massive directory of businesses and solutions. That single fact has completely altered how people shop and how business is conducted. Successful SaaS and B2B organizations understand this and have tailored their digital storefront (aka their website—and more specifically their website homepage) to serve a specific set of needs in order to drive engagement, leads, and sales.
I think most business leaders and marketers agree that the ability to have an 'always on and accessible' digital storefront and concierge system to support their prospective buyers is pretty awesome. Unfortunately, the reality of trying to juggle various business and customer needs on a single webpage comes with its own challenges.
It's no wonder so many organizations and website homepages suffer from a sort of "Jack of all trades—master of none," conundrum.
In this blog, we'll explore the role your website homepage plays—as well as the eight (8) key elements that make a SaaS or B2B website homepage effective.
Sound like a plan? Excellent.
What Is The Role Of Your Website Homepage?
Before we explore the specifics or you consider making any changes to your homepage—let's frame the purpose and function of a website homepage.
So, what role does your homepage play for your organization's website?
First, a website homepage typically delivers your "first impression."
It's the first opportunity you have to roll out the welcome mat and invite visitors into your "space"…
Humor me for a moment... Imagine that one of your best friends is having a birthday party. Your friend has a mountain-sized sweet tooth and you've been tasked to handle the most important—and risky—item for the party... That's right... "The Cake." You're not going to risk baking this one yourself—so, you do a little research and find that there are two highly-rated bakeries located within just a few blocks of your work. A few days before the party, during your lunch break you go down to check out the bakeries and put in an order.
Despite great reviews—you walk into the first bakery and it's a complete mess. It's dimly-lit, no one in sight, clearly needs to be cleaned, and there's not even a menu or display for you to explore. That doesn't really inspire confidence...
Entering the second bakery offers a completely different experience. Every aspect of the small shop is in perfect order. It's well-lit, there's a shop attendant that greets you warmly and offers help when you're ready, and there's even menu with pricing right above a glorious display case. This bakery has clearly put time and effort into making it easy for you to explore your options—giving you the confidence that you'll can get the cake that your friend will love.
Now clearly these are two polar opposite examples—but it demonstrates the power that a first impression can have and sets the tone for the rest of the buying experience (and entire relationship as a customer).
Simply put—your website homepage is your single most powerful opportunity to make a lasting impression with visitors—and potential buyers—who may have little to no prior experience with your brand. So, make it count!
Second, your homepage serves as the primary "hub" or "jumping off point" to the rest of your website or online experience.
That means your visitors, prospects, and even customers will frequently come to your homepage first. Once on your homepage, they'll use your navigation or content/links to explore resources, gather information, learn about features, or get support. The point is—make it easy for them to find what they're looking for.
Am I making sense so far? Pretty straight forward?
Great! That's the point. For all of the differences in messaging and aesthetics between different businesses and their websites—most effective homepages are simple, streamlined, and follow a very similar framework.
So, with that out of the way—let's talk specifics...
8 Elements of an Effective Website Homepage
Regardless of industry, offerings, or even size of an organization—an effective SaaS and B2B website homepage will take advantage of the following elements:
#1 They Are Easy To Understand, Immediately
The SINGLE MOST IMPACTFUL element on a successful website homepage is the primary message and value proposition.
It must be easy for visitors to understand and connect with your mission—quickly! The faster and more succinctly you can communicate value—the better your website homepage will perform and the higher engagement you'll see.
With so many potential solutions just a search away—and constant demands on our time/attention—your website only has a few seconds to engage and keep a visitor interested. Even for SaaS and B2B organizations with complex offerings—you typically only have about ~10--20 seconds to communicate purpose, value, and get your reader engaged.
Tips for your primary messages and taglines:
Keep it short and sweet
Write it to and for your customer—or as if you're speaking directly to them (Don't write it about yourself, no one cares… sorry)
While you're at it—speak directly to your customer's pain points or motivations
Make sure it alludes to the value you offer, if not stating it outright
These are just guidelines and should leave you with plenty of room to express your organization's unique personality and voice.
Some great examples include: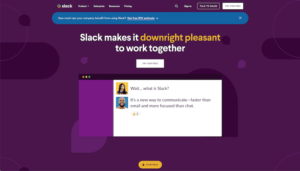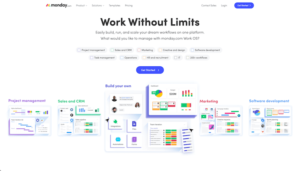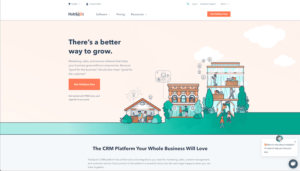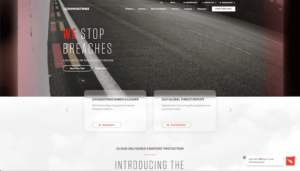 Keeping your primary messages and homepage text short and succinct has another added benefit for your search performance and traffic generation as well—but we'll get to that in #3 below.
#2 They Are Easy To Navigate
Next up is navigation. Once a visitor understands and connects with the messaging on a website homepage—they'll be primed to take an action and engage further.
Caution—there are few things that can sour a visitor's growing curiosity more than the frustration of not being able to find what they want, and quickly. So it's important that the primary navigation on a website is simple and well-organized.
For SaaS companies, the most common and important navigation elements tend to be:
Product/Features
Solutions (How product/features are applied)
Resources (Learn more, downloads, get support)
Pricing
Talk to Sales (Call to action)
Trial Offer (Call to action)
For B2B organizations, some additional considerations include:
Why Us? (What differentiates/sets you apart)
Services
Company (Overview of leadership, team, capabilities, and mission/purpose)
Get In Touch (Call to action)
Don't be afraid of "oversimplifying". It's easier to expand and you'll have ample opportunities to add links and different subpages in your footer or sub-navigation menus. Essentially, the more you can do to streamline and consolidate the primary navigation experience—the better.
#3 They Have Clear CTAs Prompting Visitors To Take Further Action
The "Calls To Action" (CTAs) on your website homepage can make or break the entire experience.
CTAs should be big, bold, and contextual. The hyperlink or button text should tell the reader exactly what it is that they'll learn or gain from a resulting click or tap.
The best CTAs are often short—but they are not necessarily simple. If you think of every Call To Action as an opportunity to ask the question, confirm their interest, and then provide them with more information (all in one)—you'll be providing a great experience.
For SaaS organizations, the primary CTAs in the navigation are typically to 1) speak to a sales team member or 2) Schedule a demo/evaluation. Throughout pages—as visitors are exploring and learning about the solution—CTAs are more likely to be tailored to learning about features and the value of the platform.
I know that it doesn't fit our B2B or SaaS target, but consider Netflix's CTAs. Short and simple—priming you to take action with no risk and huge value of "Unlimited moves, TV shows, and more..."
CTAs should be carefully tailored to match the sentiment and context for the particular location or section of the page.
Importantly, make sure that CTAs are relevant to a visitor's decision-making thought process at that point on the page. Failing to properly align content and CTAs is a sure-fire way to hurt engagement.
Don't underestimate the modern consumer. They're savvy, well-educated, and more technically inclined than any previous generation of shopper. They'll see right through your poorly-crafted messaging statements, shoddy CTAs, and toothless value propositions.
Alright—time for another morsel of goodness. Above, we mentioned that keeping the content/text on your homepage short and sweet offered added benefits for traffic generation and SEO performance. Here it is…
When you pair short and succinct, value-based messaging with carefully-crafted CTAs—you'll get more clicks. Those clicks demonstrate engagement and send signals to Google (or other search engines) that visitors found your information relevant and valuable.
When those visitors continue to engage with your content on multiple pages—that demonstrates an intentional click. Driving "intent" is one of your greatest opportunities to boost quality engagement on your website—while at the same time telling search engines to show more searchers your content (that is... drive more website traffic).
ON THE OTHER HAND… If you load up your homepage with text and overwhelm visitors—or give it all away too soon—you will never get the opportunity to generate clicks and demonstrate clicks of "intent."
#4 They Balance Imagery & Messaging Using Plenty Of "White Space"
Woe is you if you fail to pay the proper respect to basic design principles on your website homepage. Or throughout your website for that matter.
In today's "always connected" digital world—less is more and white space is absolutely necessary.
Body language can communicate as much as—if not more than—words in a conversation. Imagery, open space, and balance on your homepage are similar to body language in this regard.
If you want any of your visitors to connect and remember your message—you have to prioritize information and craft the experience you want them to have.
NOTE: This has a nifty little side benefit of forcing you into their shoes and point of view as you design that experience.
#5 They are Tuned For SEO and Performance
The technical aspects of your website homepage are also critical to driving further engagement and leads.
You'll want to make sure you've covered the SEO Basics. That means that you've optimized your homepage's SEO title, meta description, images, and structure to maximize search visibility, context, as well as performance.
SEO elements have long been an important part of ranking well and driving traffic. However, with Google Page Experience Update in 2021, technical on-page performance (load speed, layout, mobile experience, etc.) will play an even larger role in how well webpages get ranked. You'll need to make sure that you optimize your website homepage to load quickly and be ultra-responsive on a range of devices.
If you're interested in improving your performance on a poor performing website—check out our blog on page load speed and website performance.
#6 They Are Optimized For The Mobile Experience
We've already touched on this—but it's important enough that it bears repeating.
High-performing homepages (and websites) are optimized for mobile—if not designed "mobile-first."
Even if your B2B or SaaS organization caters to customers that visit your website almost exclusively on desktop—mobile optimization is still important.
First, even if your ideal buyers and visitors aren't viewing your site on mobile devices—search engines are still judging ("ranking") you based on how your website performs on smaller devices.
Additionally, the act of optimizing your homepage for a mobile device will likely also provide results and improvements to your desktop website experience.
And finally, if you're continuously honing your website homepage to perform well on a variety of device sizes—chances are good that you'll be well-poised as device sizes (and consumer behaviors) continue to change and evolve.
#7 They Introduce Some Form Of Brand Or Social Legitimacy
Another common element that helps homepages perform better is introducing some form of brand or social legitimacy.
There are a variety of ways to do this effectively depending on your industry, organization type, and approach—but some of the most common examples are:
Big-label clients...
As seen on...
Usage or milestone statements (Trusted by 100,000 businesses/teams, Protects Over 1 billion devices, etc.)
Testimonials from major companies, industry experts, etc.
Partners or network organizations
Community involvement and corporate altruism
Here's an example of introducing high profile clients from cybersecurity vendor zvelo:
Your website homepage is the ideal place to build trust among your new visitors and prospective buyers. By demonstrating that your product/service/solution is used by or relied upon by successful brands or large numbers of people—you'll build a great deal of trust. In many ways, this also enables younger organizations to skip right over some of the objections that visitors tend to have by not being familiar with your brand, specifically.
If your website homepage can help build trust early on in the awareness and consideration stages of a prospective buyer's journey—you're not only well-positioned to drive further engagement, but conversions and sales as well.
#8 They Are Continuously Tested & Optimized
Finally, a great website homepage is not something that you can "set and forget."
Great homepages incorporate heatmaps, analytics, and tracking features that feed critical website engagement data back into your organization for review and refinement.
Successful organizations are continuously measuring, testing, and improving their products and services—as well as their experiences. It's just the nature of the digital world we live in and the rapid state of change.
We always recommend building testing and optimization into the framework of a website. This ensures the baseline functionality to ensure your digital experience
Well, that's the list.
I'll spare you another novel—but some of the honorable mentions include:
Search features or functionality (think Google or Airbnb)
Explainer videos
A dynamic "What's New?" section (for news, blogs, PR)
A portfolio or work examples
And more...
What's The Value of All This For Your Website Homepage?
Individually, any one of these elements can have a meaningful impact on how well a website homepage performs—driving more engagement and clicks. Taken together—these elements do much more. With a holistic approach to all of these elements, organizations can:
Craft compelling stories and experiences that are more memorable and persuasive
Change the way prospective buyer's understand the value of their product, service, or solution
Overcome the "I'm not familiar with your business or offering" objections
Improve their search performance and get more traffic to their website
Promote higher on-page engagement measurements (time on page, session duration, etc.) and lower bounce rate
Increase conversion rates and generate more qualified leads for their sales team
Drive better sales and revenue—all by crafting the right story and experience from page one
Designing a great website homepage is a fundamental of a lead generation website and can have a significant impact on your organization's website performance.
Next Steps
Let's just finish off by reiterating the basics and putting these elements to practice.
Here's what you need to know to improve your website homepage:
Make it "customer first"
Make it easy to understand
Make it easy to navigate
Make it enjoyable
Prompt the visitor to take the next step/action that has value for them
Measure and repeat
If you're ready to flip the script and build a digital "first impression" that drives business growth, engagement, and leads—contact us.
Alternatively, drop me a direct message on LinkedIn if you have a question. I'd love to chat with you—no pressure or sales pitch.
We're always excited to share insights and explore ways to help SaaS and B2B organizations grow!