Improve Your Business Website Performance & Page Load Speed
With the Google Page Experience algorithm updates expected out in May—this is a great time to revisit some tips to improve page load speed & website performance.
In this blog—I'll outline some of the most common problems slowing down websites—as well as provide high value activities you can focus on to maximize your time spent. We might as well throw some tips and tools in at the end that will give you everything you need to speed up your site and improve search rankings in 2021 and beyond.
If you've been putting off website or performance updates for a while—NOW is the time to act.
Again, the Google Page Experience changes related to Core Web Vitals (page load speed, interactivity, and visual layout) are going to have a significant impact on a lot of websites.
So, let's dive in..
Why Is Website Performance & Page Load Speed So Important?
Aside from JUST the Google updates this year—your overall website performance and page load speeds are going to impact you primarily in three (3) ways:
Search Visibility
Your website's performance and page load speeds play a factor in how well (or poorly) your pages get ranked in Google's search engine results pages (SERPs).
Engagement & Conversion Rates
Faster loading web pages see higher engagement and conversion rates. Web pages with load times under 2 seconds see single digit bounce rates (9%). After 3 seconds bounce rate soars—hitting 38% with 5 seconds load times. (Pingdom)
When your web pages load and perform better—visitors have a better experience and are more likely to stay engaged and convert. In fact—this is one of the fundamentals of a lead generation website.
Web Experience
Additionally, website performance optimization helps ensure every visitor has a great experience—whether they visit from a desktop or mobile device. Now we're talking about more than just traffic and lead generation—we're getting into brand perception and customer loyalty.
Tips For Optimizing Website Performance & Page Load Speed
For the purposes of this blog—let's break these tips out into two categories:
First is speed. You want each page to load as fast as possible—regardless of what device or network they're connected to.
Second we'll tackle user experience & technical details. In short—how to make your website easier to use across all devices and minimize any pesky problems that Google might ding you for.
Together—these are important because you want your website to provide the BEST POSSIBLE EXPERIENCE. You want the technology to feel secondary. You want them to consume the content and product/service information that you're putting out—rather than hassling with connection or layout problems.
So...
Page Load Speed
Let's make your website faster. These are the top things you should pay attention to:
1. Optimize Your Image Sizes
One of the most common culprits of "website slowdown"—is image size.
Before adding any images to your website—you HAVE to shrink and optimize them.
Unfortunately, you can't just take an image shot with your phone or downloaded off a stock photography site and upload it straight to your website. It's going to be enormous.
Remember, when a visitor interacts with a web page—their browser has to fetch and load every image on the page. Take those multiple megabyte images and shrink them down to a couple hundred kilobytes (or as low as possible) before you upload them.
You'll be surprised how small you can make them without losing any quality or being able to tell a difference.
Tools like Photoshop are great—but you can optimize your images with free alternatives like ImageOptim (Mac Only), TinyPNG, or even Preview (Mac) or Paint (Windows). Image Size Recommendations
Resolution: No larger than 2000px in width (make as small as you need to cover the viewing area on your site)
Pixels Per Inch: You can reduce this down to 72ppi when it's just being viewed on screens (rather than printing a physical picture)
Compression/Quality: Mainly for JPG, you can compress the final image at 30–40% for substantial file size reduction
File Type: JPG for pictures, PNG for vector/computer graphics (generally better simple shapes and computer artwork)
2. Use a Video Hosting Provider
While we're on the topic of "creative and media"—how are you delivering videos on your website?
We'll keep this simple. Don't host your videos directly on your website.
In most cases—your web server is NOT optimized to deliver/stream videos to your visitors efficiently at scale. (Unless you're using HubSpot CMS)
Use a hosting platform like YouTube or Vimeo, Vidyard or Wistia. These solutions and services are designed for high-quality video streaming and your web page load speeds will reflect that.
Not only will this speed up your web pages and improve performance—in most cases it also provides a better way to manage video content among team members, improved viewership analytics, and even increases the reach of your videos (YouTube and Vimeo are highly-trafficked search engines in their own right).
3. Minimize The # of Web Fonts You Use
Next up is fonts.
It's NOT ONLY a good design practice to limit the number of fonts you're using—in most cases cap your fonts at 2–3. Limiting the number of fonts you use will also reduce page payload size, thus improving page load times.
This may feel limiting at first—but you still have font size and weight combinations, as well as colors to help differentiate text elements on a web page.
And remember—web page performance is becoming more and more important as a search engine ranking factor.
4. Minimize # of HTTP Requests (Unnecessary Plugins, Style Sheets, & Requests)
Let's talk HTTP requests.
When a web page loads, it has to make various HTTP "calls" out to resources all over the internet. These requests are made for style sheets and icon sets, for images hosted in the cloud, for javascript tied to integrations, and more.
Each HTTP request takes additional time—so more calls will inevitably lead to slower page load times.
A high number of HTTP requests on a website—particularly Wordpress—is often driven by plugin and style sheet "creep" (various icon sets, fonts, etc.). The more plugins and integrations your website uses—the more HTTP calls it will have to make for those resources, APIs, and assets.
If you see your website has a high number of HTTP calls while measuring performance—it's probably worthwhile to go perform a plugin and integration audit.
NOTE: Also check out Autoptimize, W3 Total Cache, or WP Rocket if your website isn't yet leveraging caching, minification, or combined JS/CSS files. Implementing a robust optimization plugin can often streamline the number of HTTP calls your site makes and significantly improve page load speeds.
5. Minification (HTML, CSS, & JS)
Yep, that's a real word.
Minification helps you optimize all of your HTML, CSS, and JS code. "Minifying" removes white spaces, returns characters, and other unnecessary chunks of code (like developer notes) thereby shrinking the size of those files.
When your web page goes to fetch and transfer those smaller HTML, CSS, and JS files—your pages will load faster.
6. Content Delivery Network (CDN)
A Content Delivery Network (or CDN) can significantly improve your page load speeds and overall website performance.
CDN solutions like Fastly, KeyCDN, Cloudflare, or CacheFly all work to speed up your site by hosting your website files in lots of servers located in various geographic locations.
Essentially—when a visitor goes to visit one of your web pages, their request goes to the closest server holding your website—thus reducing the time "round trip" to return the information for that web page. That means your website will load as fast as possible whether a visitor is from Riverside, San Diego, or Denver—even New York or London.
7. Browser Caching
Another way to improve page load speed for recurring visitors—is to set up browser caching.
By enabling browser caching—your website tells a visitor's web browser to "hold on" to your website's images, fonts and other assets for a period of time that you can determine (like 7 days, 30 days, or longer).
If/when those visitors return to visit your website—their browser won't have to reach back out to a server for those files—they'll already be saved locally and load from memory. That means a faster and more enjoyable experience.
Alright, that's it for our "speed" category today. If you have questions—don't hesitate to let us know.
User Experience & Technical Details
Let's swap over and talk about the things you can do to deliver an optimal web experience.
Also, while these don't DIRECTLY impact page load speed—they are in no way less important than the previously mentioned topics. In some ways they're arguably MORE important—playing a key role in ensuring a great experience free from errors, dead pages, or security vulnerabilities on your site.
8. Use HTTPS/Encryption
In 2022 and beyond—there's no reason that traffic to and from your business website shouldn't be encrypted.
Projects like Let's Encrypt have helped reinforce a standard of TLS encryption and certification across the internet. As of 2020, over 85% of websites on the internet use encryption.
NOTE: If TLS doesn't sound familiar but "SSL" does—that's because the industry has generally used both to refer to the encryption handshake that occurs between a client and server. SSL is a decades old protocol—compared to the TLS versions we've been using for years (and identified in this fun graphic from GlobalSign.)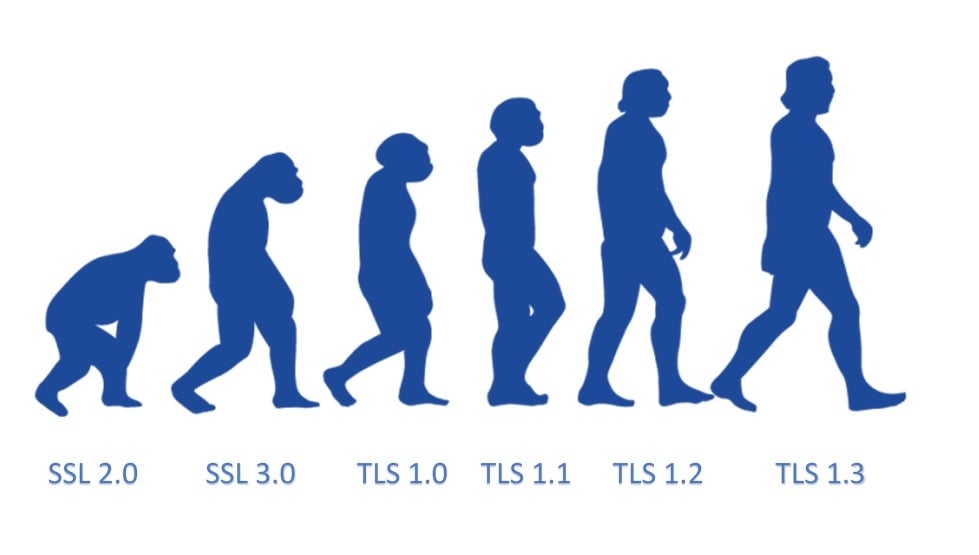 9. Make Your Website Responsive, Mobile-Friendly, even "Mobile First"
Make sure your website looks and works great on every device. Desktops, laptops, tablets, phones… foldables, AR glasses?
Maybe not yet on that last one—but keep your eyes on the horizon.
Ideally—you want to ensure that every visitor receives the best possible experience.
Practically—you want to optimize for the specific devices and browsers that your customers use the most.
Keep tabs on your website analytics using a tool like Google Analytics or Oribi to identify which devices, browsers, etc. you should prioritize.
10. Keep Your Plugins, Themes, & JS Libraries Up To Date
This one has more to do with security and website health.
Make sure you keep all of the various elements and technologies tied into your website up to date. Failing to check in on your website and keep things updated can have huge impacts on your website's performance, security and stability, and even the experience you provide to visitors.
Regularly updating is all the more important if you're on Wordpress.
Due to its popularity, Wordpress is a prime target for bad actors (hackers). A study by Sucuri in 2019 indicated that nearly half (49%) of the Wordpress sites it cleaned and secured were on outdated versions.
In fact, "plugins accounted for 61.5 % of hacked WordPress sites. That's followed by brute force attacks at a little over 15%. Core and theme attacks were both well below 10% (WPCity)."
10. 404 Errors
Page not found? Well that stinks. We tried to make it a little more fun…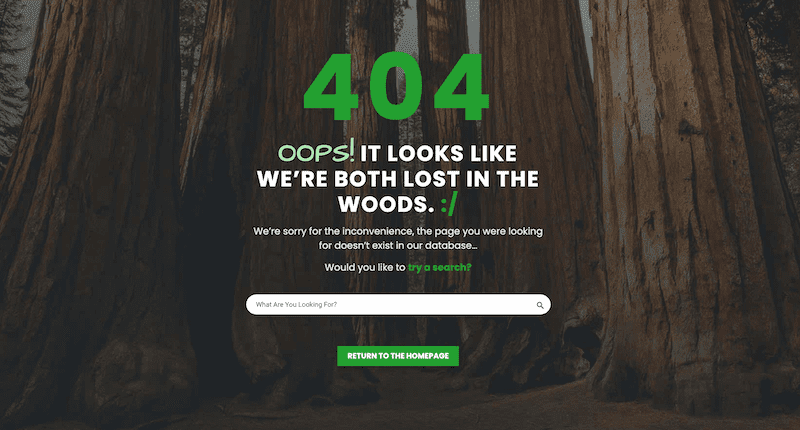 There are some websites and companies that get pretty creative with their 404 pages. That said—404 errors still result in dead-end experiences which hurt engagement and search visibility in the long run.
It's better if you keep track and manage these errors out over time. Check in from time to time and fix 404 errors and broken links—ensuring all visitors arrive at their intended destination.
11. Redirects
Redirects present similar problems.
Managing changing website content and URLs over time can lead to redirects and "chains"—or multiple consecutive redirects. Every page that's redirected to adds to the amount of time a visitor has to wait before they arrive at their destination.
From time to time you similarly prune redirects where possible and resolve issues to ensure a great digital experience for all of your visitors.
###
I could go on, but I think that's a good place to stop for now.
How Do You Test Your Page Load Speed & Website Performance?
There are a variety of tools online—some free, some paid—that you can use to test your performance.
Here are a few of my favorites:
How Do You Test Web Page Experience?
For this, you'll want to take a look at heatmaps, analytics, and feedback tools such as:
There are some "free" features you can start to use—but to really grow and improve your web pages—you'll need to access paid features.
These tools offer heatmaps and recordings from real visitor sessions to help you measure and optimize engagement on each page.
When Should You Work on Optimization & Website Performance?
Schedule it. Make it a habit and a process. Update your plugins and themes once a week. Revisit the other pieces (404s, redirects, etc.) once a month.
If you run into a problem, you'll know you have caught it sooner than later. And ideally you'll know you have a backup that you can rely on.
Tackle the low-hanging fruit and solve the little problems on a regular basis—unless you receive an error message or notification. Sure it might take you a few hours here and there—but it's important to keep your 24/7 salesperson operating at peak performance. It's also easier to spend a few hours at a time on a predefined schedule—rather than having major headaches and problems pop up as an emergency later.
Successful websites are those that live and breathe and grow. They change on a regular basis—so your website should be in a continuous state of evolution.
### A SIDE NOTE ON SECURITY ###
An important aspect of maintaining a healthy website is ensuring that you have backups and a recovery plan should something go wrong.
Having these in place gives you an incredible amount of peace of mind and safeguards you from the problems that can arise from WordPress Core Updates, outdated and incompatible plugins, and more.
Honestly—it's awful to have to spend hours or days struggling with a critical database error or "white screen of death". That's too much stress on your webmaster or marketing team and their time is better spent finding ways to deliver value to customers and helping with the day to day business operations.
A small investment in performance and managed hosting goes a long way.
That's It. Go Forth And Rise In The Search Ranks!
If you want to keep your website running smoothly—follow those guidelines and that's 90% of the challenge. If you have any questions—don't hesitate to contact us.
For a breakdown on how search results will be changing May 2021—check out our blog on the Google Page Experience update.